12 'Full House' Quotes That Will Have You Saying "Oh, Mylanta!"
"Everywhere you look, everywhere you go..." there's a catch phrase that you have been using for decades and you never get sick of it.
Full House has been in our lives since the late '80s when it first aired on TV. No matter how old you are, we all know the characters from the classic throwback show and we have definitely seen it more than once on reruns.
While we may feel old thinking about how long ago this showed aired, not to mention that it has been off the air for 20 years, these phrases we all grew to love continue to stand the test of time.
How many have you used recently?
1. "You got it, dude." – Michelle Tanner
Your ultimate sign of approval always came from Michelle.
2. "YOU. ARE. NOT. WELCOME." – Michelle Tanner
It's amazing how something so forceful comes from a little girl.
3. "How rude!" – Stephanie Tanner
Before Michelle could talk, it was Stephanie that delivered the sass. If someone comes at you incorrectly, give them your best Stephanie impression.
4. "Have mercy!" – Jesse Katsopolis
5. "OH, PUH-LEEEZE." – Michelle Tanner
The sass was real with this young one.
They only get better from here!
6. "Cut. It. Out." – Joey Gladstone
You know you've done it, complete with the hand motions.
7. "Duh"- Michelle Tanner
How did she get away with all these sayings?
8. "Well, pin a rose on your nose." – Stephanie Tanner
Well we may now say, "nobody cares" you will often hear a 90s kid mutter this familiar catch phrase from the middle Tanner child.
9. "No way, Jose" - Michelle Tanner
A flair for the dramatic, Michelle always delivered the laughs.
10. "Oh, Mylanta!" – D.J. Tanner
While some may say "Oh my God" the oldest Tanner child, D.J. would say that after she saw a she saw a cute boy.
11. "You're in big trouble, mister!" – Michelle Tanner
Yup, Michelle is up to it again.
12. "WHOA, BABY!" – Various Characters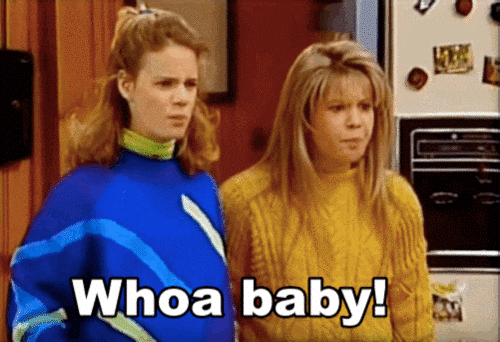 How many of these phrases do you still use? Share with us in the comments.