13 Facts About "13 Going On 30" That Won't Age You 17 Years Overnight
13 Going On 30 remains a classic piece of film history to this day. It's hard to believe the movie is already turning 14 years old this year, but that's probably because we all watch it all the time anyways, so it feels like no time has passed.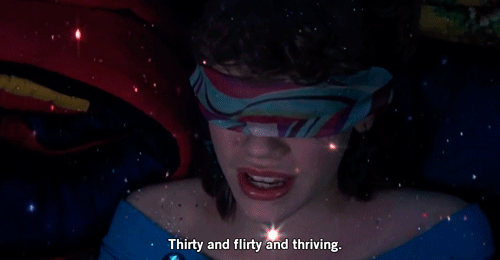 But even the most die-hard fan may not know these things about everyone's favorite Mark Ruffalo movie.
1. Jennifer Garner was made for the role.
When her Alias co-stars found out Garner was going to be playing a 13-year-old girl, they said she was perfect for the role because she "acted like a 13-year-old in real life anyway." Garner herself was happy that she got to play a role that allowed her to be happy and fun, since her Alias character was serious all the time.
2. Blast from the past.
In the original script, Mark Ruffalo and Jennifer Garner were going to play their teenage selves. However, after much debate, it was decided that bringing in actual teenagers would look better on screen.
3. Garner chose Ruffalo for the part.
When Garner was cast in the role of Jenna, the actor to play Matty had yet to be chosen. Garner said she's the one who pushed for Ruffalo.
"The movie took a leap for me when Mark Ruffalo was cast," she said. "The second they breathed his name, I said 'please, please, please, yes, yes, yes.' If you would've said five years ago, if you could work with five actors, who would they be? He would've been number one. So the fact that I could wish that and then it could happen...He's a dream of a person. He's a fantastic actor and he's just so fun to hang out with. Talk about grounded, he's really the bees-knees."
4. It's all about timing.
Jenna turns 30 exactly 13 minutes into the movie.
5. Ruffalo knows teenagers can be mean.
In a movie about teenagers-turned-adults, Ruffalo had some experience with mean teens in his lifetime.
"When I was a little bit older I was working with this girl and I had a crush on her and one night after work we were all hanging out and having drinks and stuff and she's like, 'hey, you wanna come over?"" Ruffalo recalled in an interview for the movie. "I was like "oh yeah'. I'm following her. We're driving (in separate cars) and she keeps driving faster and faster and the next thing I know she's running red lights. I followed her for like forty-five minutes. I don't know where the hell I am and she just left me. At some point I was like 'oh, this is a game. She's testing me'. Then I realized she was just ditching me. It was horrible and I was in the middle of nowhere. I guess I was about 18."
6. Improv is key.
Garner and Ruffalo had to develop a lifetime of chemistry on set, and they did that by rehearsing and improving.
"We did a lot of rehearsals which you don't get to do a lot in this type of movie and we were always talking, finding different ways to modulate it," Ruffalo recalled. "The drug thing came out of a rehearsal. Some of that was improvised and so that was one way that we found to get into it, to make it kind of plausible."
7. Too cool for school.
The actor who played young Matty, Sean Marquette, had a lot of transforming to do for the role. He had to wear a fat suit, and was often told to be more awkward because he was so naturally "cool."
8. Your clothes say a lot about you.
If you pay close attention, you'll notice that Jenna's wardrobe drastically changes from fun and vibrant, to more mellow and mature, as she starts to find her true self. You'll also notice that Tom-Tom's outfits get more and more dark as you start to see her true colors.
9. What tattoo?
In a deleted scene, Jenna goes to the doctor, who compliments her on her tattoo. After he leaves, Jenna frantically searches her body to try and find where (and what) the tattoo is.
10. Ask Judy
Judy Greer was universally considered the funniest actress on set, so when people wanted certain scenes to be funnier, they would go find Judy and ask her what she would do.
11. I don't dance.
Mark Ruffalo almost turned down the role of Matty because he didn't want to dance.
"The dancing was horrible! I almost didn't want to do this movie," Ruffalo revealed. "I literally read it and I'm like, 'I can't do this movie. I can't get up and do those scenes.' When [Jennifer] dragged me out [onto the dance floor], she was literally dragging me out. I had hours of rehearsal with a dance coach who taught me how to do all the moves and stuff and still, when we got into actually shooting it and there were 300 extras around, I did not want to do that scene."
Garner, however, said Mark was great.
"Mark was sure that he was gonna die on the spot when we were rehearsing," the actress told Black Film. "He took a lot of pep talks but he so got it and so nailed it, so we just had a blast. I mean, we really did. We had so much fun. He was not a dancer, but he worked really, really hard and he more than got it down. He was groovin'."
12. It wasn't a hit at first.
Even though the movie is well-loved now, it was not a box office smash. The movie earned $57 million domestically at the box office and has a 64 percent fresh rating on Rotten Tomatoes. But, thanks to Garner and Ruffalo's chemistry, the movie became a must-watch and is still run on television networks to this day.
13. Close connection.
Christa B. Allen played a young Jennifer Garner in the movie, with Garner saying the young girl looked exactly like she did as a teenager. Allen even played a young Garner again in Ghost Of Girlfriends Past. Allen and Garner have remained close, and Garner even gave her younger counterpart some great advice on being a star:
"Make sure that you maintain a life outside of Hollywood because if you're just wrapped up in your career all of the time, you're not a real person having real experiences. And then how can you play a real person in a movie?"